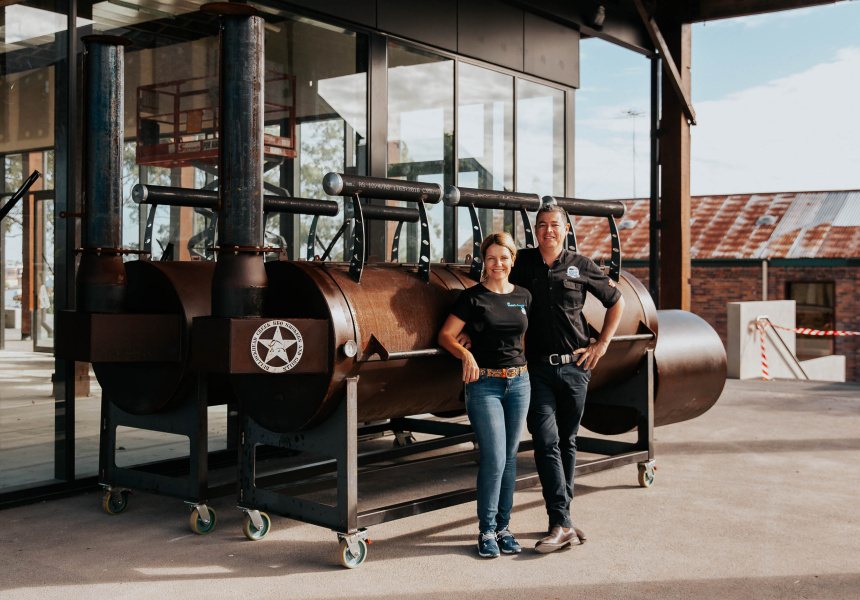 The Getta Burger Crew's Huge Specialty Barbeque Butcher Shop Is Coming to a Beautiful New Morningside Precinct
There's a neat elegance to a specialty butcher opening on the former site of the Hans Continental Smallgoods factory. But key to the location of Low n Slow Meat Co's new headquarters isn't so much its history, but its obscurity.
"It was amazing," Brent Poulter says about the first time he and wife and Low n Slow co-owner Amy Poulter discovered the precinct, hidden behind a hill in Morningside not more than a 15-minute drive from the city. "Our vision for it was quite clear from the first time we laid eyes on the place."
Drive up Colmslie Road from the Junction Road roundabout, over a gentle rise and it comes into view, a rambling 1917-built brick facility with an enormous chimney. The factory was originally used to make acetate of lime for munitions production. Later, it would become a naval base, a migrant hostel and, finally, the Hans factory before it closed in 2008. The main facility is three buildings, neatly stacked down the far side of the hill, overlooking the river beyond. This will soon become a new brewery for Bulimba's Revel Brewing Co.
Opposite, a 100-year-old farm building has been converted into a handsome 800-square-metre timber, glass and steel facility. Here, Low n Slow Meat Co will peddle its one-stop mix of barbeque gear, accessories, fuel sources, rubs and sauces, alongside a butcher selling dry-aged meat from a specially built cabinet, and a selection of cooked meats and accompaniments – lamb shoulders, ribs, brisket, roasted vegetables – intended for takeaway. In the centre of the venue will be two five-metre long wood-burning smokers. There will also be a significant back-of-house butcher and smokehouse, which will help supply the Poulters' wider group of businesses – including their popular Getta Burger chain – and wholesale partners.
For those familiar with Low n Slow's current Tingalpa operation, the Poulters say to expect much the same but in a better designed location with views of the river and the city.
"We're pretty chuffed and proud to be able to move in there and operate in such a unique space," Brent says.
There's also some practicality on the part of developers BMI Group in approaching the Poulters. Low n Slow Tingalpa is a destination, drawing a stack of punters from across Brisbane's south to its obscure warehouse on Container Street. It will likely do the same in Morningside, helping populate the new precinct.
"We'll bring our crowd with us from day one," Brent says. "We haven't said where we're going yet but the interest has been really good from the content we've put out. So we should hit the ground running."
Once wholesale production and retail is up an running, the Poulters will turn their attention to rebooting their dine-in menu, which has proved popular with Tingalpa shoppers Thursday through Sunday.
"We'll push that pretty hard because it's gonna be quite a lovely place to go on a Sunday afternoon," Brent says. "Come down, have a beer at Revel and some barbeque from us – that will be cool."
Low n Slow Meat Co will open in Morningside in mid-May.
Back to Rivermakers