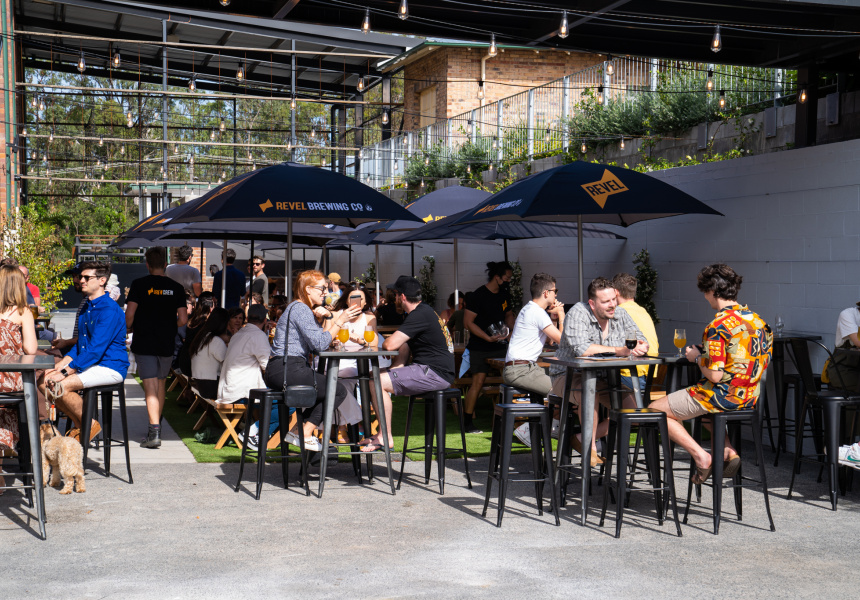 Revel Brewing Co Unveils Its Eye-Catching New Restaurant in a Century-Old, Undiscovered Riverside Brick Precinct
Finally, it's here. Eighteen months after it was first announced and a year behind schedule, Revel Brewing Co opened its new venue, Revel Rivermakers Restaurant, in Morningside on the weekend. It was no soft event, either, with curious locals booking out the ground-floor digs of the rambling, 1917-built Commonwealth Acetate of Lime Factory the restaurant calls home (at other points in its history the imposing brick edifice has been a naval base, a migrant hostel and, most recently, the Hans Continental Smallgoods factory).
"You could tell everyone was in awe," says Revel founding director and co-owner Jay Neven. "They're looking around at this facility that's been sitting in their backyard since 1917 and they didn't know about it, and this 30-metre-tall brick chimney. They say, 'Holy moly, this is insane. How did we not know this was here?'
"We're really excited. Our neighbours are Low n Slow Meat Co and Bavay Distillery – there's a lot going on and you need to come up to fully appreciate it."
There's a slight sense of awe in Neven's voice also, perhaps the result of opening a restaurant and a neighbouring 35-hectolitre brewing facility on top of keeping his existing Bulimba brewery afloat during the global pandemic (which involved transforming it into an online pasta restaurant).
"I don't think anyone was really sure that we would get through Covid at any point," Neven says. "Everyone was just surviving. But I think most industry understands the survivability plan and what living with Covid looks like in 2022.
"We've boxed on and we've come good, and we're just really excited to be able to open the doors and start bringing people back to this beautiful, historic facility."
Despite the heritage digs, Revel Rivermakers shares plenty of DNA with its Bulimba forebear. Much of the seating is at communal tables – outside it's enormous umbrella-shaded picnic numbers and inside, steel-framed share tables hedged by planter boxes. The internal dining room has left the old facility's brick and timber beams exposed and unadorned.
For food, chef Dan Carter, formerly of Brewski on Caxton Street, is plating up a menu of refined pub grub with a focus on sourcing local, sustainable produce where possible. To share, there's polenta fries, cauliflower wings, free-range dry-drubbed chicken wings and antipasto platters. For mains, you might order pan-fried wild barramundi, grass-fed Black Angus sirloin, or a classic chicken schnitzel and parmigiana. There's also a selection of burgers that includes a cheeseburger, a crumbed barra burger and a plant-based burger.
The drinks of course go long on the beers, with the restaurant's 20 taps pouring all of the Revel core brews alongside its busy program of limited and seasonal releases. There's also an extensive list of Australian wines.
As for the brewery next door, it's already transformed Revel's overall business, more than tripling its brewing capacity and allowing the original Bulimba facility to focus back on doing smaller boutique releases.
"You're much more efficient and … it's just a different scale," Neven says. "And so we're able to do these very special boutique projects down [in Bulimba] free of any production issues due to our expansion in wholesale, which 'Makers is [focused on]."
Back to Rivermakers